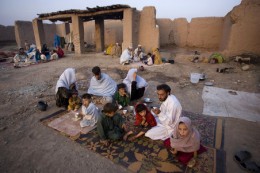 The US military is preparing to fly in humanitarian aid to Pakistan to help the nearly 1.5 million people forced to flee fighting in the country's northwest, the Pentagon said on Monday.The Defense Department was drawing up preliminary plans to ferry food, water and tents to help those displaced by the Pakistani army's offensive against Taliban militants, spokesman Bryan Whitman said.
'The Pakistanis could use some basic humanitarian assistance that the United States is prepared to provide,' Whitman told reporters.
A request was pending from Islamabad for humanitarian aid and final details were being worked out through the State Department, he said. The aid would include packaged Halal meals, water trucks and tents.
'We're looking at providing assistance in those three categories, and potentially in other areas,' he said.
'We want to be there to help them,' Whitman added. 'We want to demonstrate that we are good partners.'
About 1.45 million people have been displaced as Pakistan's operations against Taliban militants entered a fourth week on Monday, with infantry troops waging street battles in towns of the Swat district.