By Aysha Ibtasam



As I rushed out of the office to run errands during my lunch break and stepped into an empty elevator, the stagnant smell of someone's perfume was in the air who happen to have left the presence only through this beautiful smell. I wish they were present so I could have asked them "What is that perfume you're wearing?" So, after finishing my errands I decided to visit one of the largest perfume stores near my work to see if I can locate similar fragrance.
Ah! As I enter the store, the sea of perfumes on multi-layer shelves greeted me. I realized that remainder of half hour lunch will be impossible to locate the perfume I was looking for. So the next day, using my entire lunch hour I set out on a quest for this unknown smell; it became a mission for me to acquire this particular perfume.
This search proved to be very knowledgeable and I came across many different types of fragrance products. Perfume is not the only thing we apply to ourselves to smell nice.
Other fragrance products which are becoming more popular over liquid perfumes are solid perfumes, body spray, mist, body lotions and most importantly roll-on perfumes. Other fragrance products which are not as common are powder, oil, musk and attar.
Before I elaborate further, I just want to mention few facts on history of smelling good. The word 'Perfume' comes from the Latin word, per fume meaning, 'through smoke.' In ancient times, the use of perfume was common among the Egyptians; they incorporated perfume in their culture and thereafter the ancient Chinese, Hindus, Israelites, Arabs, Greeks and Roman introduced this product in their own culture. However, the perfumes used by these ancient people were not perfumes of today; they burned incense and aromatic herbs when religious ceremonies were performed.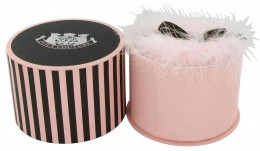 It was a process back then, than it is today (though parts of Arab world still adhere to this practice). They burned these exotic herbs, minerals or rocks to acquire certain smell. They would put the element in gold or silver burners and place it in the center of the room, the rising smoke would linger in the room and cling on the garment for lasting result.
This practice of burning incense and aromatic herbs is still practiced today in the Arab world as mentioned earlier. The burner is called Luban. It is made of wood or steel now a days compare to silver and gold of past centuries. As I mentioned in my previous article that a trip to Dubai last year was knowledgeable and entertaining. As I passed by either men or women in the malls, streets and resorts, they smelled heavily of incense and aromatic herbs, which is very different from the western fragrance.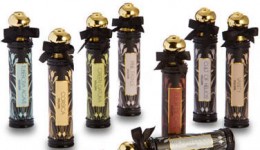 The smell is more of spice and is heavy than western fragrance which tends to be lighter and sweeter. Upon inquiring with one of the sales people in a perfume shop about this beautiful and very different smell-I was told it is acquired through a lengthy process.
Since most women in Dubai and other parts of the Middle East have time on their hands and can spare on such activity-Luban is lit with desired herbs or minerals and is left burning in the dressing room. While the women dresses fully the smoke is absorbed in her clothes, hair and skin.
Ideal time to absorb the fragrance is at least 30 minutes. This method of applying fragrance is practiced by both men and women.
The entire fragrance product I came across in the store was to covet for. Solid perfumes are my favorite along with roll-ons.
They are perfect for traveling and just to keep in the make-up bag for a quick application during the day or night-out.
Musk is the most expensive natural fragrance in the world which is obtained from a miniature antler-less male deer who resides deep in the Himalayan Mountains.
The substance is derived from a gland which is situated between its stomach and genitals. It is not readily or commonly available in the market.
So by the time, I finished applying various fragrance products onto myself such as liquid perfumes, solid perfumes and body lotion I smelled like a rose fully bloom in the spring time.
Though after a while of applying different fragrance to my hand and arm my nose couldn't tell the difference from one to another.
That's when I ended my quest for the perfume I was looking for initially. But in its place I learnt of many other nicer perfumes, roll-on, solid perfumes, lotions etc.
I may have not found the perfume I was initially out for, but I found equally or greater one instead. I was glad with the purchase I made because every time I pass by someone, they ask me, "What is the perfume you're wearing?"­­­­
Perhaps when I step out of the elevator of my work palce now, I leave a presence of myself through this wonderful perfume which I am in love with.