By Aysha Ibtasam

Jeans is probably the single most item you want a good fit. A perfect fitting jean will enhance your overall look. For a lot of people it's difficult to find a good pair of jeans with the right styling, fit and cut. Over the past few years, there has been an increase in branding of new and emerging jeans with new cut, style and fit to cater to every body type.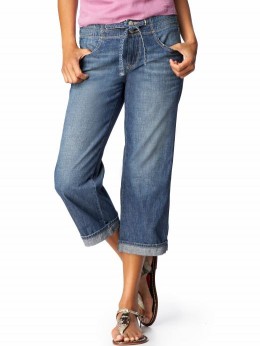 Now a days, some brands offer jeans with different inseam measurements. In other words, a size 4 will be offered in two or three different inseam lengths-for a petite, average and a tall person who wear size 4. This is by far the smartest thing the manufacturer did to consider height of individuals. This way, the customer does not have to spend extra money on alternations for a fit.
When you're shopping for a pair of jeans, remember to ask the sales associate if the style is offered in different inseam length; and most of the time, the store labels it pretty clearly on the item itself. You will find the following labels on the items pertaining to the length of the jeans "Tall", "Regular", "Petite."
Also, as you consider the length, one other imperative thing to keep in mind while shopping for a pair of jeans is that the crotch or most commonly known in the fashion world "Front Rise", should not cut into the front area creating whiskers.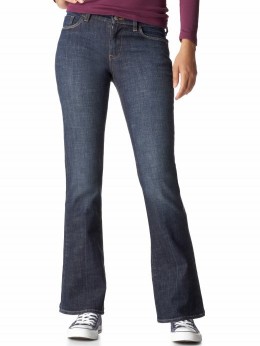 This apply to any pair of bottom-if it creates folds and wrinkles in the front rise, the chances are you will have a harder time sitting in them since there is no room to move into. Let me clarify this, while standing if it creates whiskers then it's not a good fit but obviously when you sit down, naturally it will.
Depending on your taste you can choose a pair of jeans from a Wide Leg, Boot Cut, Flare, Skinny Jeans, Capri and Weekend Jeans (with rolled cuffs). Most commonly trotted styles are boot-leg and Wide-leg, however, for some years now, the skinny jeans have ruled the jeans world.
STYLES: Wide-leg, Boot cut, Flare, Skinny jeans, Capri, Weekend jeans with rolled cuffs
There are parts of lower body which needs to fit in a jean properly and smoothly to give you a define look. The waist, thigh, length, inseam and backside all require smooth fit; combination of all of these parts of the 'design fit requirements' make it harder to find the right jean which fits and flatter simultaneously.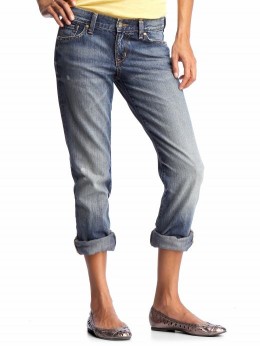 Closure of the jeans plays an important role as well. Look for a pair with a waist which buttons or snaps easily. As I mentioned earlier, the back rise and front rise seam should fit comfortably to prevent grabbing. Be sure that the jeans you have planned to wear are long enough to go with the boots or heels.
They should reach the top of the footwear you have coordinated with the outfit. Many manufacturers are designing angled hems to prevent fraying and wearing of the hem.
Stay away from extra embellishments on the back and skin tight styles. Choose pockets which are proportionally spaced and sized because too wide spaced and small pockets will make your backside wider.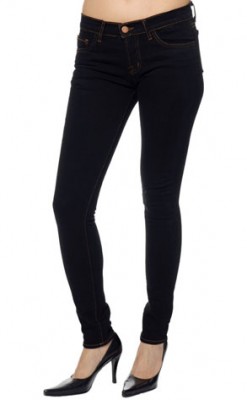 To balance out a lush figure pick a style with slight flare or detailing such as vents, or intricate pattern at the ankle.
If you have a tummy, Do Not buy pleat pants or jeans. Invest in five-pocket style with slash pockets on the diagonal. Stretch jeans are great with some give. A source indicates that 'elastic waists may feel comfy, but the denim bunches below the elastic and adds unwanted inches.'
For those individuals who have heavy thighs should opt for styles that skims and does not hug the leg. To even out proportions and to give some heft to the ankle area choose flares and boot cut styles since they tend to elongate the leg.
Another source gives a tip for Tall & Thin - 'Try the new retro peg leg (very narrow ankle opening) or extra low-rise styles for a flat tummy and slim hips. As for short legs -'Slim fit styles with a slight flare make your legs look longer. Avoid cuffs and peg legs.'
A slim figure calls for low-rise and skinny jeans whereas the straight and boot-cut jeans are well-suited for muscular and athletic shapes. And if you are pear-shaped, try low-rise boot cut or flared jeans for balance according to a source.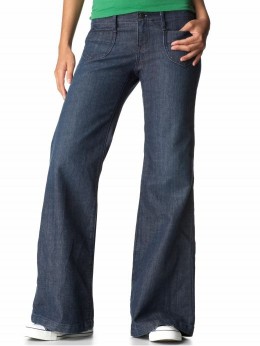 However, a slight flare looks good on all body types. The washes of denim counts to overall look as well. The darker the denim, the slimmer it will make you look. Conversely, you will look bigger in lighter washes.
The jeans need to mold to your body. They should not be ill fitting. When you invest in jeans, be sure to walk around in them, sit and bend and jump if you have to.
Seriously, the last thing you want to do is walk in your jeans with the fly open because they don't fit! A good pair of jeans comes with a good price tag but they don't have to be overly price either.
So find a pair which fits and flatters.