By Aysha Ibtasam

As sad as it is to say we are in an era where it does not require much for you to become a fashion designer unfortunately, unlike the days when I was in school and we had to bust every ounce of our energy in putting together outfits for end of semester fashion shows, whip up twenty designs in minutes on paper, design a garment out of a recycled material, not to mention the intense internships and many other projects requiring creativity and exclusivity; and we held our breaths while professors and faculty surveyed it with scrutiny; but it has all changed in the recent years.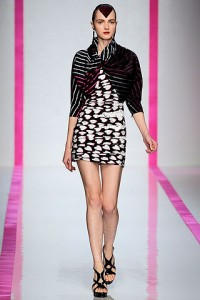 Now singers, movie stars, socialites, athletes or famous faces are flooding the fashion industry to launch their clothing line, shoes, accessories, and home goods collections with the help of PR. It's rampant now for a famous name to be slapped onto a fashion house or brand.
Few weeks ago prestige fashion house of Paris, Emanuel Ungaro, announced Lindsay Lohan the actress who in recent years is most commonly known for her stints in rehab- as their artistic advisor. Upon reading this news in Woman's Wear Daily (fashion newspaper), not only was I appalled but also had an instant gut feeling this was a recipe for disaster; and sure enough two weeks later the entire fashion industry feels the same.
Lohan was to work along side the young and newly hired Spanish designer Estrella Archs to create the Spring 2010 collection, which was shown in Paris last week. The collection by most critics and fashion experts has been called 'The Hot Mess of Spring 2010".
Here is verbatim what some fashion critics have said about the collection; research is complied by various online sources: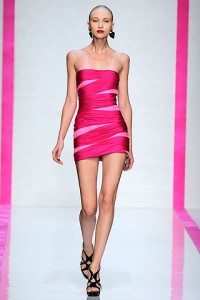 Linday, it's time to get serious about reviving the acting career. After just one season, one show is off to a troubled start. Lindsay Lohan and designer Estrella Archs made their joint debut on Sunday in an effort that was quite simply an embarrassment.
As for the clothes, they looked cheesy and dated. Hot pink, orange and flashy, with an overworked heart motif relentless in its execution, the collection displayed none of the promised younger side Lohan was supposed to deliver. Archs should be given a chance to find out without a younger, nonskilled judge with theoretical veto power hovering about, the ladies joint bow didn't radiate chemistry.
No one ever said fashion design is brain surgery. It's a different discipline altogether. But it is indeed a discipline and a commercial art, a fact variously muted and underscored by the celebrity infiltration of the last decade.
And like brain surgery-yes, like the brain surgery and all discipline at which people work for years to develop proficiency. It has its rare geniuses and capable practitioners, all of whom must possess talent, skill and dedication. Being a young, pretty, controversial woman who looks good in clothes and photo ops just isn't enough. I couldn't agree more with this criticism.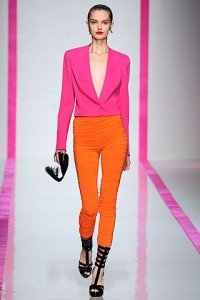 The most important turn off for fashion purists was Lindsay Lohan herself. Sure, fashion loves a celebrity muse. And Ungaro CEO/ President Mournir Moufarrige (Labenese-born businessman who has made a career of reviving old labels), a man once lauded for putting celebrity child Stella McCartney (daughter of Paul McCartney) at the helm of Chole, was understandable looking to pump juice into a label that has dried up.
McCartney, to her credit, had at least studied design. But Lohan? She's tabloid fodder, a perpetual victim, and hardly has remarkable style befitting a great French name. Wouldn't Lady Gaga or even Pink have been more relevant?
Further arising hackles was Lohan's unusual role in the collection. Had she been a behind-the-scene stylist that would have been another story. But she wasn't signed to stay backstage. Her title was 'artistic adviser.' Although it's not so clear what that job entailed. Lohan's presence undermined Archs and that makes fashion people steam. What exactly did Lohan contribute? Pasties?
While these factors no doubt made the crowd inhospitable, the real problem was the design. The collection was mediocre, without any new form or content, lacking in invention or development. It lacked finesse, sophistication, technical skill and any evidence of good taste.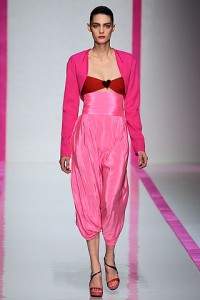 More questionable looks included a white bustier dress so short it left the models' rear hanging out, spandex bandeau tops and a suit worn with nothing more substantial underneath than sparkling heart-shaped pasties.
And the list goes on and on. But it does not take a rocket science to figure out this mayhem was going to emerge with the partnership of Ungaro with Lohan. I viewed the collection online and found hardly three or four outfits to be customer friendly out of fourty-five pieces. What a waste of fabric! I really hope they find a way to recycle the clothes.
A designer designs a whole collection which incorporate all categories such as slacks, tops, skirts, blazers, jackets, coats, dresses and gowns. Each category offers several pieces. However, Ungaro collection designed by Lohan and Archs lacked gowns. Perhaps Lohan needs to brush up on fashion terminology prior to taking over a fashion project and understand that a dress is different from a gown; a super micro-mini dress is not equivalent of a gown.
In my opinion, garments made by graduating class of any fashion school and garments designed by Project Runway candidates shows talent, dedication and newness. You see the freshness in the clothes, the creativity and exclusivity pours out with passion and dedication.
When I view collections by great designers my mind wonders how did they make this? The clothes literally look like pieces of artwork, you see raw talent and they are beautiful. But this collection left me wondering that the bar of expectation of great work has gone way down-all the way into the sewage system.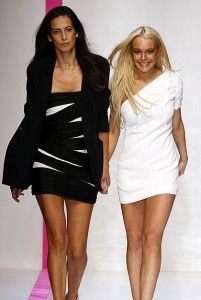 Does this collection really belong on a runway let alone to believe that this is a product of a great Parisian fashion house? It's a mockery what fashion industry is doing by placing non-skilled, passionless, creativity lacking individuals behind prestige fashion brands. The only way to describe this phenomena is 'Circus Havoc'.
Archs and Lohan held hands and hugged each other when they took the podium for a post-show bow, skeptical crowd of fashion journalist and editors gave unenthusiastic round of applause.
As for Miss Lohan, what did she think of the collection, 'We both (referring to her partner in crime, Archs) kind of mixed our ideas together, and that's why it came out so well.'
Yea, Right! Lindsay. The collection can be viewed by logging into WWW.STYLE.COM and clicking on Emanuel Ungaro for SPRING 2010.