By Aysha Ibtasam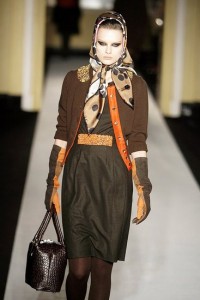 Hijab,…..What is hijab? Hijab, is a piece of clothing which covers woman's hair. Wearing hijab is considered a modest and pious act in Islam.
Though recently hijab has been in the headlines of news and has become a controversial topic in some western countries. It seems as if hijab is some kind of foreign concept which recently emerged out of no where. Hijab is a sign of modesty before God and in effort to ostracize being a sex symbol in the eyes of male.
The history of covering one's hair goes way back in time. Wearing a head cover was a sign of status and was considered noble among people of high rank when kingdoms reigned.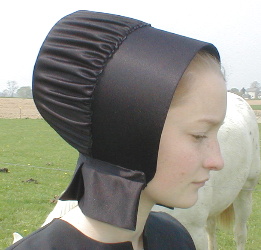 Queens, princes and other hierarchical woman wore veils or head covers to shun from public eye and for modesty as well as to distinguish themselves from general public.
Since covering or veiling was a status symbol of being wealthy, it became a desire for some women and they embraced the tradition. In pagan societies the veil was a sign of a modest married woman.
The head covering did not disappear in this country until the last century. The practice of covering ones hair with a bonnet or other hats and caps was widely accepted. But somehow the Muslim woman who are dressed similarly to the Nuns, Amish women, Mennonites and the Jewish Orthodox woman are more harassed, vulnerable and thought to be oppressed by the same people who hold nuns and Jewish woman in high regards for following their religion staunchly.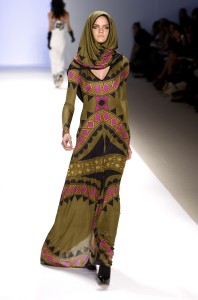 The women who are follower of Sikh religion also cover their hair when attending prayer services in Gurdwara (house of worship).
The head covering for peasant and small business women identified their village and status. Every village had a unique bonnet which affirmed their job and status.
The head covering has multiple facets; the nurses wear hair caps to keep the hair out of place, the food handlers and chefs wear for the similar purpose and it is also worn to keep the dust out of hair when cleaning.
However, head covering is styled variously and the way it is worn depends on one's faith and region. There are various ways to wear head scarves. Head covers are introduced in many colors, prints and designs now a day since number of woman observing this practice has increased tremendously over the recent years. Whether it is because of one's faith or the fact that more ways are being explored and experimented in wearing the head covers is unknown.
In the Middle East the women are fusing style in their hijabs to cater their individual taste but adhering to religious practice at the same time; they are creating a fusion and killing two birds with one stone.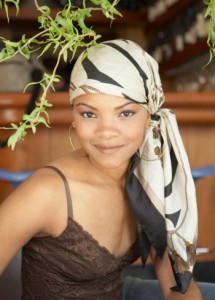 As we all know Arab woman are known for their luxurious life style and love to flaunt their wealth; to satisfy their fashion taste buds the women are becoming increasingly fashion conscious and the designers are well aware of their cravings. Beautiful matching hijabs are designed to go with the outfits and abayas (cloaks).
Hijabs and abayas are more of a fashion statement in the Middle Eastern countries and among some young Muslim women. As one of the website sources indicates that, "Fashion Scarves are available in an engaging range of designs, styles and patterns, which are in consonance with the latest fashion trends. Fashion scarves beautifully accessorize all kinds of suits, jackets, sweaters and all other attires".
For some Muslim woman, the hijab is not solely for religious reason but used as a fashion accessory as well. For those who like to achieve a certain look and experiment with the head scarves, they can choose from wide range of colors from hot pink to vivid purple, animal prints to paisley intricate detailing, various textures which are acquired in both knit and woven. Some young women believe that the type of hijab you wear says a lot about who you are.
According to another website where they refer Turkey as a fashion follower of Italy, "The woman in Turkey enjoy Fendi scarves, Ferrari scarves; it is all about status for them, they like to show off to each other, and they always keep up with the newest collections. They know what is new, what is not, what is last season, but they are always willing to give big money for the scarves" said a source.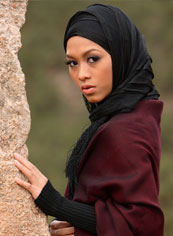 Northern Italy is the world capital of scarves according to the same source. For some rich religious clientele paying $700 for latest Italian scarves is not a huge deal if it can serve their insatiable demand.
I am sure most of you are wondering, doesn't wearing a colorful and fashionable scarf contradict the Muslim faith where a woman's virtue is to be protected? Most women who wear a hijab for both religious purpose and to look fashionable don't seem to agree.
These individuals believe that as long as the hair is being covered and they are within the boundaries of the religion keeping modesty intact, then the religious aspect is fulfilled. The use of scarves in vivid colors and bold prints is an outlet for these women to look stylish while adhering to religious beliefs.
Fashion industry of Turkey is changing tactics to meet demands of their country's high, prosperous and fashionable clients who embrace hijab but want to look trendy and chic. Models are paraded down the cat walk in latest headscarves displaying the current trend in hijabs. The way a scarf is worn defines a certain class and has a connotation of status in the society.
The way a scarf is styled impacts your social status and symbolizes a certain class. Women who tie scarf under their chin are residence of country side, others who cover their head and neck are staunchly follower of faith, the ones who show little bit of hair are daring in choosing bold colors and prints. Business has been good in hijab category in Turkey and the Middle East.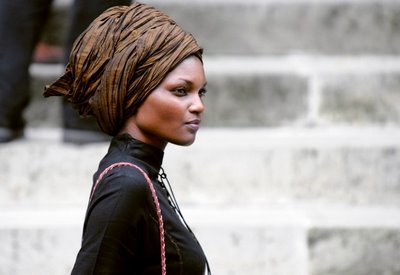 The customers for scarves vary from the ones who prefer somber hues for the more conservative ones or bright colors for the adventurous and young.
Hijab serves dual purpose. It can be used as a protective gear to shield the hair from the wind, sun and dust or pollution. Use of bandana is common among western woman when running errands or doing house chores.
Hijab, head covers, bonnets, veil and caps all have similar purpose and multiple functions. Let's not be judgmental and give hijab a negative connotation just because it is accepted by Muslim women. So ROCK that hijab!!