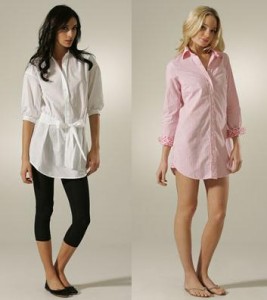 I am sure everyone has a pair or two of white T-shirt or dress shirt which is worn when nothing seems appropriate or when you are in a rush. Some of us take the white shirt for granted. We limit it in styling and just use it as a rescue item.
White shirts are very versatile and can be dressed up or down depending on the occasion. Not only is the white shirt classic, elegant and chic but totally dependable when you have not a clue as to what to wear.
It can be coordinated with slacks, khaki's, dress pants, jeans, Capris, skirts, shorts etc.
Whether white shirt is made of poplin, linen or knit it does not loose it's simplicity with chic-ness. Its fun to wear white shirt since you can layer it, as a first or last piece on the body.
Since bustier can't really be worn solo for day time, a white T-shirt serves its purpose. You can wear a snug white tee to avoid bulk and for that ultra-flirty appeal.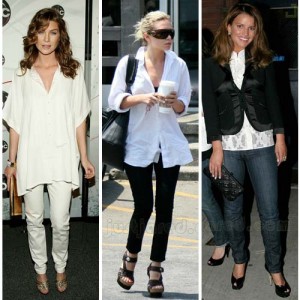 1: A curve-hugging slim V-neck white T-shirt paired with bagpipe jeans and a skinny beige, dark brown or red belt is a fresh look without trying too hard.
2: For a weekend vibe, put on a slouchy white T-shirt and cinch in at the natural waistline with thin leather belt for a definition.
3: Wear a white tee with super-wide neckline for a more classic and modest look. With the right accessories you can turn this look around with multi-layer strand of necklace and slim jeans.
4: For a more classic and vintage look, opt for a crisp white poplin or linen white shirt with straight leg bottom and worn-out boots.
5: For a causal day, go for a button down white long shirt with tights or super skinny jeans and finish it off with kitten heel ankle boots.
6: Feeling bohemian? Pair various lengths of necklaces over a white t-shirt and put on a peasant skirt.
Another tip: Since a white t-shirt or dress shirt can be transparent and is a natural lighter hue than any color in the spectrum-always wear a white undergarment or tank to be on the safe side.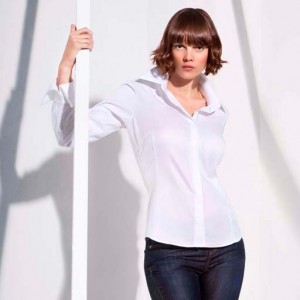 To show off that perfect piece of accessory, nothing says better than a simple white shirt. An abstract piece of jewelry, a great bag, stand-out shoes or red lips; all make a statement with a simple white shirt.
As one source states beautifully that, 'A white shirt is a blank fashion canvas which you can do anything with. Therefore, with so many variations to choose from this season you can create your own style'.
According to another source, 'The great white shirt has become the new little black dress in terms of longevity and versatility. Always a wardrobe staple, this year a new trend in detailing and embellishments has made this basic of wardrobe warriors far more fashion-forward than ever before'.
Ever since Sharon Stone famously wore a white shirt with a voluminous skirt to the Oscars, it has transformed the look of white shirt from the days when it was attire for business-wear.
For many, a crisp white shirt is a fashion classic, the infusion of stretch has given the white shirt a new dimension and a whole new look. For a nice and comfortable fit, pick a white t-shirt made of high quality cotton or in a spandex and lycra blend. Stretch gives a white shirt a neater and a smoother look.
Very few pieces of garment have the level of versatility of a white shirt.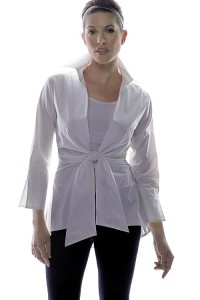 According to a source: 'Fit is foremost, followed by the use of quality fabric. A well-made shirt will stand up to wear and washings.

The basic spread-collar, button-front shirt is the starting point, but a few trendier pieces can really pop, especially in the summer. Cap sleeves, ruffles, French cuffs, asymmetric hemlines, wrap belts.'
For some it's a statement; for designer Carolina Herrera and Tom Ford, it's classic and a staple piece which gives them their identity. It's their signature look.
Whether you put on a white shirt with a suit or a pair of jeans, it feels different and looks different each time giving you a whole new vibe.
ADITIONAL PICS