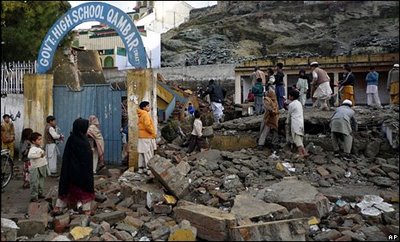 PESHAWAR - Taliban militants have blown up at least nine schools, one basic health unit, a warehouse of a private construction company and a policeman's house in Chagharzai area of Buner district. Militants also torched five educational institutions in Shangla. The local people and officials at Daggar, headquarter of Buner, informed Tuesday that Taliban destroyed nine schools in scattered areas along with a basic health unit at Topi on late Monday night. The destroyed schools included both for girls and boys. So far no one has claimed responsibility for destruction of these schools and a health unit.
The NWFP Senior Minister Bashir Ahmed Bilour has confirmed the destruction of schools in Chagharzai area. He said that militants had also set the house of a police head constable on fire in the area.
It may be mentioned here that a large number of Taliban militants have assembled in scattered areas of Chagharzai, Buner, in the wake of military action against them in Swat, Shangla and Dir areas and are making attempts to consolidate their positions. Chagharzai connects Swat and Buner with Shangla, Mansehra and Batagram districts. Thousands of people from Chagharzai area have abandoned their houses and shifted to safer places. The district administration has established a camp for these internally displaced persons in Swari area but the affected people are unhappy with the arrangements.
Online adds: Militants also set five schools on fire in Shangla on Tuesday, a private TV channel reported.
Before and after the military operation Rah-e-Rast, the militants have destroyed and torched over 366 schools in District Swat, Buner and Dir. 238 schools have been torched in Swat, 36 in Buner and the rest in district Dir. 205 schools of girls and 15 of boys are among the torched and destroyed schools.
-Source: The Nation-