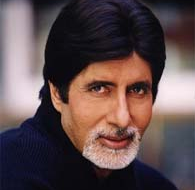 Mumbai: Bollywood megastar Amitabh Bachchan is collaborating with a media house for a peace campaign to better ties between India and Pakistan.
"Their media and our media will through the medium initiate cross over efforts to hold hands, to exchange views and ideas of how to extend our understanding with each other, to build bridges when all else is falling apart," Big B wrote on his blog.
Bachchan will be seen rendering some lines written by noted lyricist Gulzar in a video as a part of the campaign.
The video depicts a casual atmosphere of a wayside tea stall and thoughts related to our early lives lived in smaller towns.
"The idea of lets get together, unfold a `duree` bring on the `dholak` and sing the songs of community singing. Of flying kites from the roof tops of our homes and inviting each other for a game of `kabaddi`," he added.
The 67-year-old actor hailed the commonness between two countries and advocated a need to build confidence and faith in each other.
"We are now two different countries, India and Pakistan, but our cultures match, as do our food and living habits and our speech. We have been in dispute and rancor on many an occasion and continue to be so, but how wonderful for the media of both the nations to want to start this unique move in building each others confidence and faith in the other," Bachchan wrote.
The Times Of India group plans to launch the campaign from January 1.