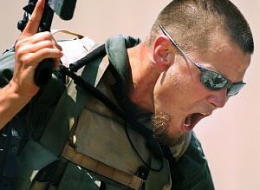 Noted religious scholar Mufti Muhammad Rafi Usmani has alleged that the infamous American agency Blackwater aka XE Worldwide is responsible for the gory incidents of Karachi.
More than 45 people were killed and 100 injured when a suicide bomber barged into an Ashura procession in Karachi on Dec 28. Following the gory incident, some 3000 shops were set ablaze and some 45 vehicles set on fire resulting in a loss of more than Rs30 billion according to reports. All this happened within three hours of the suicide bombing incident, reports say.
Addressing a news conference along with religious leaders and scholars Mufti Muhamamd Taqi, Mufti Muhammad Naeem, Maulana Tanvir ul Haq Thanvi and traders in Karachi on Wednesday, Mufti Rafi Usmani said that Blackwater was involved in the killing of innocent people at the Muharram procession.
Immediately after the blast, markets were set on fire according to a well thought-out plan, he said, inquiring how could the miscreants get petrol and weapons so early.
He claimed that the traders suffered losses worth Rs100 billion, and demanded that immediate measures should be taken for the compensation of losses.
On Dec 29, the popular Talk Show Point Blank carried an in-depth program on the presence of American private contractors like Blackwater, XE, Dynacorp including FBI in Pakistan and their activities. The show interviewed Dr Mehwish Saleem Baig - a naturalized American who was allegedly interrogated and harassed by FBI personnel in Karachi. Mehwish claimed that she was mistreated and detained in US Embassy for more than 2 hours after informing them that she wanted to renounce her US citizenship along with her kids.
Mehwish moved back to Pakistan along with her children after divorce from her husband Dr Nusrat Faheem who lives in USA.
Related link: POINT BLANK With MUBASHER LUCMAN: Dec 29
A MUST WATCH: Mubasher Lucman presents sweeping evidences of role of Blackwater, Xe, FBI in Pakistan, specifically intimidation and interrogation of Dr Mehvish Baig – a naturalized Pakistani American who is been trying to give up her US citizenship. Also, Lucman questions whether US actual objective is to destabilize Pakistan..