By Aysha Ibtasam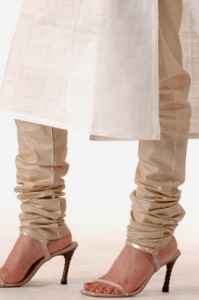 What do tights and churidar have in common? Everything! They are fitted, versatile and fashionable. Even though tights were extremely popular in the 80's and early 90's but they have made a come back- this time bigger and better than before in style, colors and patterns.
In the 80's, the tights were mainly considered work-out attire or dancing ensemble. But Peggy Bundy from the sartorial sitcom 'Married with Children' was famously known for her tights with tunic and high heel pumps, not to mention her two story nest hairdo, but let's keep that aside for now and focus on the tights.
Churidar on the other hand, were merely worn by Mughal dynasties and Nawabs of the time prior to becoming main stream. A definition of a Churidar is: the pants are cut longer than person's height so the extra fabric creates folds or bangle like affect at the ankle, hence the name Churi (bangle) dar (like). Contrary to western tights, Churidar are unisex. Churidar can be paired with a Kurta, Kameez, Anarkali, Frock, Tent or A-line tops.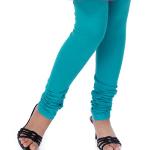 Personally, Churidar or Tang Pajama (another name) is one of my favorite traditional outfits. It gives elegance and height to the wearer. Churidar were strictly cut in cotton, silk or other expensive fabrics back in the days but this has changed recently and now are offered in knits or jersey fabric utilizing the full characteristics of the fabric. One advantage of knit Churidar is that it gives stretch when in motion around and fits snugly to the person's body.
Same rules apply to tights. It is a very versatile piece of clothing and can be paired with mini-skirts, tunics, long sweaters and T-shirts, dresses, boyfriend blazer and even shorts. The trend for the past summer season were to pair shorts and mini-skirts with tights for less skin exposure and never having to give up micro-minis at all.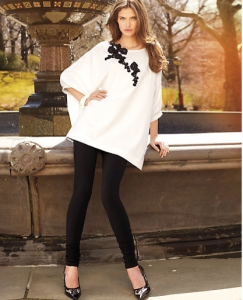 Tights have taken many forms but the most rampant ones are the mid calf length in opaque and black, delicate lace accents the cuff and peaking out from underneath a short skirt is the most seen. Nonetheless, the tights have become focal point of an outfit.
As one of the website source points out that, 'Tights or leggings, unlike some other hot fads, offer lots of aesthetic bonuses to those that wear them in addition to trendiness. They have a slimming effect on even the stoutest leg. The longer leggings accentuate the ankle, and when worn with high heeled pumps, they make the wearer's leg appear longer and more tapered. They also give the wearer the ability to be more daring with the length of the outer layers of their outfits. Everyone feels freer to show a little more leg by wearing shorts or mini skirts if there are leggings under it'.
Unlike tights, Chuidar are safer to trot in. The tops which are usually paired with the Churidar are longer and below the hip. Tights on the other hand can be worn with a t-shirt as well, I would not recommend it, but I certainly have seen it! Rules should apply as to when and with what tights should be worn.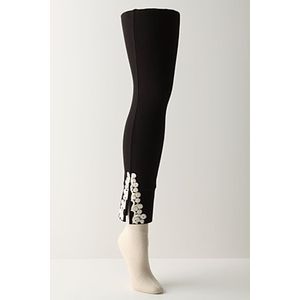 I would like to quote another site which offers a pretty simple method in figuring this problem out. The source indicates, 'Put on the awesome outfit, leggings included and stand in front of a full-length mirror. Take a mental note of how it looks. Secondly, remove leggings from the outfit and return to the mirror. Has your outfit just offended you'? The site further explains that, if you are exposing more skin then you intent to, it's best to substitute the tights with skinny jeans at that point. Keep in mind that the top you wear should end below hip, believe me, no one wants to see the anatomy of your buttocks!!
Designers such as Giorgio Armani took inspiration of Churidar and incorporated the look in his 2006/7 collection. It was a beautiful collection of silk Churidar like pants.
Another renowned designer called Nicolas Ghesquiere who designs for Balenciaga fashion house put together a gold metal legging/ tights in one of his collections. Meadham Kirchhoff's heavily embroidered leggings are twist to the rather basic category.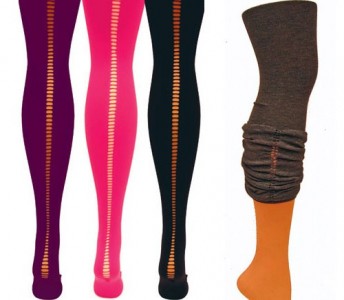 As the trend is growing, so are the options for consumer. The designers are diversifying the look of basic tights into denim, leather, wet look, patterned, lace, cut-out, metallic, geometric, gathers (shirring) at hem, slashed, and latex.
I refrain from using the overly used phrase "East meets West" or another common cliché 'Fusion', but when you look at these two categories which derive from each region you get the true sense of the two world coming together and thus creating a Fusion. But this is the only time I will use this word to describe the influence or taking an idea from one another and collaborating to form something which works for everyone resulting in Churidar Tights.