By Aysha Ibtasam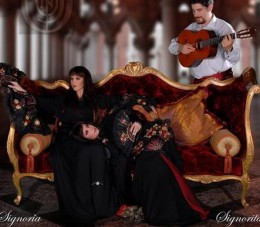 Can Abayas or Burqa be a fashion statement? It certainly is in the Arab world-in the last few years. Abaya was once used to cover up woman's body for religious purpose, solely.
An Abaya is one of the most traditional pieces of garment which is long and is worn over a garment for protection and modesty around the world by Muslim women, however, the religious aspect of covering up has not change but the cultural purpose has in some parts of the Muslim world today.
My trip to Dubai, last year was an eye opener. Even though I was born in Saudi Arabia and lived there for number of years, but never did I see styles of abayas as I did in Dubai. In Dubai I learnt that hijabs/ abayas can be worn in variety of styles.
As I like to call the women in Dubai 'Princesses,' since they look like one in the abayas. Why? Well, for one thing, the abayas are intricately decorated with, embroidery, prints, cut-work, beads and crystals to name a few trims.
Abayas in the Middle Eastern world are worn more for cultural purpose than religious. For this very reason they need to be stylish, fitted, decorated and flow with the garment worn underneath. To please and satisfy the lavish taste of the princesses of the middle east, the Saks Fifth Ave in Jeddah and Riyadh tapped designers world wide to design exclusive pieces of abayas for the royal family. The designer / couture abayas were shown at the luxury George V hotel owned by a Saudi prince in Saudi Arabia. The fashion show was one of its kind in it's presentation.
The ambience was of Arabian Nights, with music and cloud of smoke, a beautiful grey stallion pranced into the opening area ridden by a Russian red-head riding side-saddle wearing a rhinestone / sequined shawl designed by John Galliano for the Saks Fifth Ave collection.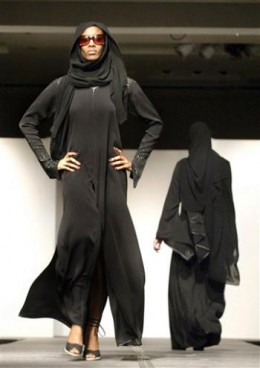 Following the opening extravaganza-came all the models parading down the runway in breath taking abayas solely in black but each one very different.
The designers were no small designers but well reputable who took part in this unique challenge to revamp the traditional abayas. Designers such as Nina Ricci, Jean Claude Jitrois, Blumarine, Alberta Feretti, Martin Grant, John Galliano and Caroline Herrera were to name a few. The reason to revamp the abayas was so the customers can have a coordinating cover-up to go with their underneath dress. Plus the women who wear designer outfits in the Middle East can also have a designer abaya to go with their ensemble.
Women in the Arab world are very much familiar with designer brands and covet distinguished designers when it comes to wearing expensive clothes. Dania Tarhini, who is a general manager of Saks Fifth Avenue in Saudi Arabia said, at first the designers who were tapped to produce couture abayas were not very enthusiastic.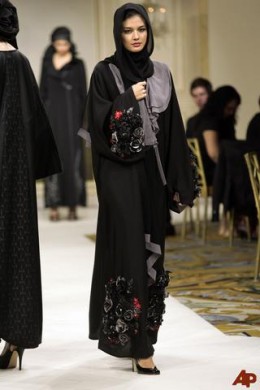 They couldn't understand the concept of couture abaya.
She ended up sending samples of few traditional abayas to the designers for garment construction and basic concept. From there on, each designer produced their version of the designer abaya which bridged fashion and culture. These abayas are for women who wear designer outfits and now they have designer abayas to go with it creating a life style for them.
For some designers designing abayas was a challenge. An upcoming designer from Portugal Felipe Oliveira Baptista described his challenge like so, "It was interesting to work on a garment that has very specific rules, traditionally are black, body-covering and floor-length." Adhering to such rules becomes difficult since designers are free spirited and like to design without any limits of any sort.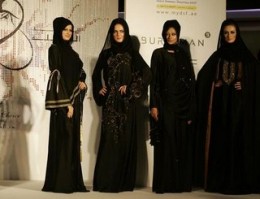 Baptista's design consisted of patchwork of three different black fabrics cut to lengthen the body. Designs by other designers included Swarosky crystals, gold, velvet or pearl embroidery and see-through lace and muslin. Another designer who is French and goes by the name of Anne-Valerie Hash said, it was not an easy exercise, and that it was a little intimidating project. Despite the hard challenge and creative limits, each designer created one of a kind piece which was different from another.
However, one thing was in common, the color (black) and each piece was modest with long sleeves and floor length. Twenty one designers participated in total from various countries. With so many renowned designers each skilled in their own craftsmanship offering unique designs- the Arab princesses should not fret at all, they have so many options and varieties to choose from. The abayas presented at the fashion show in Saudi Arabia were given as gifts to the royal family and other VIPs, however, Tarhini plans to have a selection of abayas at disposal for the customers who have similar taste as the royal family.
She will introduce couture abayas in the boutiques as well. The collections will be created twice yearly and will introduce colors in navy and brown for starters.
The abayas are conservative and daring simultaneously, they are highly fashionable but does not go against the culture as long as the women are covered properly, said Tarhini.
Arab women are big spenders and this will only make them crave up and coming trends in abayas and invest in extravagant pieces.
I am sure this is good news to most Arab women who are fashion conscious and are high maintenance. Who knew one day abayas would make a person do 'Double Take'.