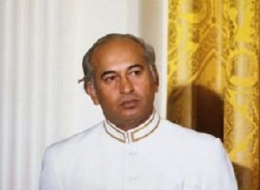 The British government was wary of exerting heavy pressure on Pakistan not to execute Zulfiqar Ali Bhutto, the father of late prime minister Benazir Bhutto, in 1979, secret files released on Tuesday showed.
Then premier James Callaghan remained on warm, personal terms with General Zia ul Haq, whose regime hanged Bhutto two years after a 1977 coup.
Although Callaghan did warn Zia against executing Bhutto, other documents reveal that officials earlier saw it as an internal matter — and for a while, did not even believe it would happen.
Bhutto, founder of the Pakistan People's Party (PPP), was hanged in Rawalpindi jail on April 4, 1979 for the murder of a political opponent.
The former premier's trial was condemned by some observers as unfair and was subject to a lengthy appeal process.
When Bhutto was first sentenced to death in March 1978, a senior British diplomat in Islamabad wrote in a telegram to London that life imprisonment, not the death sentence, seems "the most likely outcome".
Meanwhile, Foreign Office diplomats appeared to be focusing on commercial deals between the two countries, including for buses and tractor production.
Callaghan seemed more worried than officials — on top of a document about one such deal, he wrote: "What does FCO (Foreign Office) propose to do about Bhutto?"
His foreign secretary David Owen met Zia's foreign affairs advisor Agha Shahi two days after the death sentence was passed on Bhutto.
Owen told him: "This was an internal matter for the Pakistan government and my concern was with the effect on Anglo/Pakistan relations as a result of public reaction amongst the many here who might feel offended," according to a note he sent to Islamabad afterwards.
In April 1978, Zia handwrote in green ink a personal letter to Callaghan which showed his confidence that, whatever happened to Bhutto, ties between Britain and Pakistan would not be affected.
"I feel convinced, that the abiding nature of our ties, and friendship will withstand the stress of an agonising moment," Zia wrote.
That friendship was in evidence when, in September that year, Callghan sent Zia a congratulatory message as he took over as Pakistani president, having previously been chief martial law administrator.
But in February 1979, Britain believed an execution was imminent and sent a telegram from Callaghan to Zia urging clemency.
In it, Callaghan recognised the "many and grave difficulties" Zia faced "with which, if I may say so, you have the sympathy and good wishes of many of your friends in this country as well as elsewhere in the world."
But he warned that executing Bhutto would be "a grave shock to Pakistan's many friends here".
"As a soldier yourself you will, I know, remember the truth of the old saying that the grass grows swiftly over a battlefield, but never over a scaffold," he added.
That same month, Foreign Office minister Evan Luard met Bhutto's son Mir Murtazar Bhutto, who asked if Britain could do anything more to prevent his father's execution, such as suspending aid.
Luard "did not see there was much else we could do", adding that "blatant pressure" could be "counter-productive", an official record said.
"We would have to wait and hope for good news during the next few days," he added.
The day before Bhutto's execution, Callaghan contacted Zia as he made a final decision on the prisoner's fate.
"To decide on the life and death of a human being is a heavy burden to add to the heavy cares of office and I pray that you will be given wisdom in your task," Callaghan wrote.
"I cannot believe that an execution will encourage that underlying sense of duty which every country needs".
But he added that he wrote in a "spirit of friendship and mutual respect".
The documents were released by the National Archives in London under laws which allow the disclosure of classified files to the public after 30 years.