By Aysha Ibtasam
If one thing is big every summer, it's the summer dresses. They come in varied lengths, all colors and light weight fabrics. Summer dresses are the best way to express summer trend in the warm sunlit days. There are many ways to wear the short summer dresses if you wish to wear them modestly as oppose to solo.
Thanks to layering trend; but you might be thinking, 'layering in the summer'? Yes, layering in the summer, but not too much layering, enough to keep you dress modestly if you choose to. Cardigan worn over spaghetti straps or strap less dress work wonderfully or when the dress length is too short, pair it with jeans and high heals. You can't go wrong with jeans underneath a short dress or cardigan/ wrap over a rather flashy dress.
Beautiful bold floral prints, bright colors, simply cut and flowing dresses speak clearly of summer days. Butterfly motifs on dresses are another proof of summer arrival. As one source put it, "When I think of a butterfly, spring inevitably comes to my mind.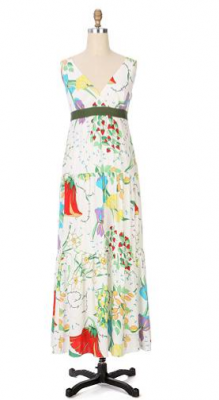 A butterfly itself symbolizes lots of things. In designers' collections they are a symbol of femininity and beauty. Butterfly garments look delicate, elegant and sophisticated".
The scale of floral motifs get larger on the prints, you will see large flower print, paisley's, leaves etc. The larger prints are cleaner and less detailed, color combination can be drastically different or monochromatic with bold color trimming or detailing.
Geometric prints, animal print and abstract print are prominent in the spring/summer season. Some designers even show scenic painting prints or fruit images depicted in the prints, such as apples, cherries or grapes with vines. Summer prints are fun, fresh and colorful.
Asymmetric toga dresses with gathering and draping of fluid fabrics look romantic and feminine. They freshen up the spring/summer look. Almost all of the times the toga dress is in solid color and in flowing material. The dress is cut in asymmetrical shape or has fine pleats, folds or shirring. The toga dresses are very sensual and appealing to the eye. It has a feminine look and delicateness to it.

Among spring/summer dress trends-are fairy-tale gowns and bejeweled garments. Bejeweled gowns are mostly reserved for evening out as oppose to work. Jewel encrusted dresses should only be worn by itself. The dress needs to draw attention and not the accompanying accessories; otherwise the look will be too heavy. So be sure to keep the dress the focal point and carry a clutch with perhaps a chunky ring or subtle earrings, a necklace will be a no no.
Precious stones, glass and crystals are used as embellishments on evening dresses, jackets, skirts, shoes and even accessories. Very classical and even sometimes exotic, bejeweled clothing will be popular with fashionistas worldwide; according to one source.
A white dress is very feminine and looks pretty, however a white dress needs color when worn. You can create interest by adding bold jewelry or a bag with trendy shoes can work just as well. Remember, white is the only color which can be accompanied with any color accessories and it will look dashing. White dress looks fresh, crisp and fuss free.
The fairy tale romance dresses with flouncing ruffles, rosette clusters and delicate caplets are very girly and create an exquisite image. The dresses are embellished with intricate details and need to be toned down with subtle accessories to balance out the outfit. When the dress has a lot of detailing on it, the accessories need to be subtle and not so bold or contrasting.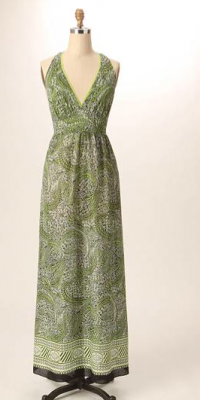 It's almost every woman's fantasy to wear romantic sweep trains, puffed sleeves and intricate detailing dresses but the real world calls for more practical pieces especially when you need to go to work.
So look for dresses which offer delicate detailing but in a subtle and fun way, unless you are going to a red carpet event, then you can have all the bells and whistle on your dress.
Spice up your spring/summer wardrobe with the hottest trend of the season and slip into one of the above mentioned beautiful summer dresses. From short to long, from day to night & from simple solids to vibrant patterns- these picks will make any girl envious!