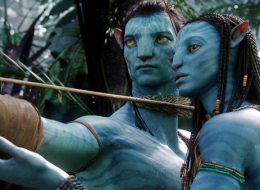 James Cameron's $300 million 'Avatar' has finally been released. AVATAR was released last Thursday in UK and it became an instant hit in UK. AVATAR REVIEWS said AVATAR was Oscar-Bound..that is a Ground-Breaking movie, a 3-D Sensation, etc. So, according to us it seems it is already a hit in USA!
AVATAR is one of the most expensive movies of all time and is poised for a huge box office debut in USA this weekend.
At the World Premiere of "Avatar" in UK last Thursday, James Cameron's "Avatar" received standing ovation at its conclusion. This is another rare example where the quality of the movie does indeed exceed the hype and "Avatar" will most certainly be among the 10 'Best Picture' nominees for the Oscars, media said.
James Cameron will also be a Best Director nominee, it said. It is also possible that actress Zoe Saldana, who has the most challenging of roles in the film, may rack up an additional acting nomination as well.
The most spectacular thing about the movie is its special effects, the 3D-animation. The storyline is simple but powerful with punches. More than being a movie it is an experience which one can feel while watching it in the theater.
The storyline of the movie is based on a futuristic setup: It is year 2154, and Jake is a paraplegic former marine shipped from tapped-out Earth to Pandora, a voluptuous extra-terrestrial moon whose minerals are just the thing to keep humans clinging to home base until the next folly.
'Avatars' are human clones of the Pandora native Na'vi tribes. Born with blue skin and long tails, these tall, slim, small-breasted humanoid species are built for the fashion industry but born to live intimately in the incredible jungle that surrounds them.
Obviously fascinated by the Na'vi oneness, scientists like Dr. Grace Augustine (Cameron muse Sigourney Weaver) created genetically identical replicas to get up close and personal. Jake in Na'vi form is one of those clones; Grace is another.
Colonel Miles Quaritch (Stephen Lang) and Giovanni Ribisi's Parker Selfridge run the American military-industrial complex on Pandora designed to extract all the mineral wealth and get the hell out of Dodge, pronto.
Jake has three months to deliver and convince Na'vi to peacefully abandon their spiritual home where the mineral deposits are centralized.
The battle where on one hand are the 10-feet tall, with six-legged horses, flying dragons, long bows and on the other lay the humans which have monstrous planes, helicopters, bulldozers and weapons of mass destruction. In such a scenario, the Na'vi doesn't stand a chance.
Watching the movie is a must for all cinema goers!
"Avatar" will likely gross about $80 million from Friday through Sunday in the U.S. and Canada, according to several people who have seen pre-release public surveys. Thanks to largely positive reviews, however, the people said the movie could easily outperform what polling currently indicates and end up even higher.
People close to the studio said executives are concerned about managing expectations for their costly picture going into the weekend. Fox's domestic distribution president Bruce Snyder said he expects the movie to open to $50 million to $60 million.
Overseas, where the James Cameron-directed 3-D spectacle is opening this week in 106 countries, including every major market except Italy, Japan and China, it will likely sell more than $100 million worth of tickets and could easily collect around $150 million.
That will put "Avatar" among the 20 biggest worldwide launches ever…
Avatar Details:
Opens: Dec. 18 (20th Century Fox)
Production companies: 20th Century Fox in association with Dune Entertainment and Ingenious Film Partners
Cast: Sam Worthington, Zoe Saldana, Sigourney Weaver, Stephen Lang, Michelle Rodriguez, Giovanni Ribisi, Joel David Moore, CCH Pounder, Wes Studi, Laz Alonso
Director/screenwriter: James Cameron
Producers: James Cameron. Jon Landau
Executive producers: Colin Wilson, Laeta Kalogridis
Director of photography: Mauro Fiore
Production designers: Rick Carter, Robert Stromberg
Music: James Horner
Senior visual effects supervisor: Joe Letteri
Costume designers: Mayes C. Rubeo, Deborah L. Scott
Editors: Stephen Rivkin, John Refoua, James Cameron
Rated PG-13, 161 minutes