President Barack Obama is expected to make a long-awaited announcement on his Afghan war strategy in the next few days in an attempt to bring an end to a prolonged period of uncertainty surrounding US intentions, officials said today.
Gordon Brown today attempted to shore up British public support for the war prior to Obama's declaration, arguing that Nato's resolve in Afghanistan would "never succumb to appeasement", while offering to host a conference in January to agree a phased handover of the military effort to Kabul.
Nato allies are awaiting Obama's declaration on strategy and reinforcements before deciding on their own contributions. However, impatient British defence chiefs have warned that the deployment of 500 extra British troops pledged by the prime minister was urgently required and should not be dependent on Washington's decision, or on the political conditions laid down by the prime minister. "It's nothing to do with politics. We need them now," a defence official said.
Obama's announcement is provisionally planned before the American Thanksgiving holiday on Thursday next week. If it is left until after that it could coincide jarringly with the ceremony bestowing the Nobel peace prize on the US president in Oslo on 10 December.
However, before finally deciding on how many more troops to send into the battle with the Taliban, the US is seeking specific commitments from the Afghan and Pakistani governments on what they are prepared to contribute to the fight.
The US and its allies are demanding fundamental reforms from President Hamid Karzai aimed at curbing the corruption rampant in his government and increasing the flow of recruits to a new Afghan national army.
Western officials are demanding that Karzai signal a decisive break with the past in his inauguration speech on Thursday and in his subsequent government appointments. There has been speculation in Washington that Obama, currently on a tour of Asia, might fly to Kabul to deliver that message himself.
Meanwhile, Obama's national security adviser, James Jones, has been dispatched to Islamabad to ask the government there to extend its current offensive against Pakistani insurgents to fight Afghan Taliban groups sheltering on Pakistani territory. According to the New York Times, Jones told the Islamabad government that the US strategy would only work if Pakistan broadened its military offensive in the tribal areas along its borders with Afghanistan. The appeal was contained in a letter from Obama delivered by Jones to Asif Ali Zardari, Pakistan's president.
Pakistan has raised concerns that a US military surge in Afghanistan would push more Taliban across the border and undermine Pakistani stability, at a time when its forces have been making gains against the insurgents responsible for a recent string of bomb attacks across the country.
Obama's military advisers, on the other hand, are worried that the collapse of the Karzai government, leading either to anarchy or a Taliban government, would represent a far more powerful threat to Pakistan's long-term stability. They argue that the future of Pakistan, a volatile state with nuclear weapons, is ultimately of more strategic importance to the US than Afghanistan.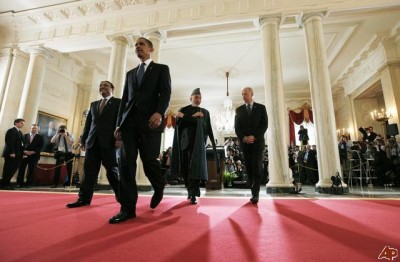 They also believe the fall of Kabul would provide al-Qaida once more with an expanse of territory from which to plot new attacks on the west on the scale of September 11.
Brown echoed those arguments in his Mansion House speech tonight. "We are in Afghanistan because we judge that if the Taliban regained power, al-Qaida and other terrorist groups would once more have an environment in which they could operate," he said, according to an early text of his remarks. "We are there because action in Afghanistan is not an alternative to action in Pakistan, but an inseparable support to it."
The White House's decision-making over Afghanistan policy has been complicated by widespread fraud involved in Karzai's re-election, and by leaks from assessments by the US commander in Afghanistan, Stanley McChrystal, suggesting he needed 40,000 more soldiers. The Obama administration was furious at what it saw as the general's attempt to pre-empt the president's decision.
"I'm sceptical of having such a large increase in foreign forces at this time," said Malcolm Chalmers, a former British government adviser now at the Royal United Services Institute. "Part of the problem with the current debate is that it's a sort of double or quits mentality: either you've got to get out or you've got to have some massive increase, which is predicated on the assumption that with one last push you'll succeed. It's an illusion to think that the Taliban are going to be defeated. There's not going to be an outright military victory, that's not the nature of the conflict … what the military can do is contribute to creating a sustainable form of government in Afghanistan."
Meanwhile, British army chiefs warned that the Afghan war was not an "aberration" but rather the shape of conflicts to come in which Britain would be involved. They published two documents which built on the lessons learned in Afghanistan and Iraq: one on the role of the military in providing security, notably in failing states, and the other on counter-insurgency doctrine, the first such document in eight years.
"Counter-insurgency requires some sort of political accommodation," the counter-insurgency chapter of the new army field manual states. It adds, echoing the approach British commanders want to see in Afghanistan: "Reconciliation is a two-way process, best undertaken from a position of strength."
British commanders have been pressing for greater contact with reconcilable Taliban elements as well as with provincial and district officials and tribal elders.
(News sourced from: guardian.co.uk)